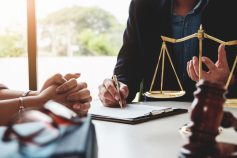 Proper medical care is your first priority after suffering a personal injury. Your next step should be to consult with an experienced personal injury attorney. They will be able to assess your situation and give you advice about your legal options.
It is important to note that there is a time limit set by law when it comes to filing a case for personal injuries. That time limit, known as the statute of limitations, is two years in Texas. In New Mexico, you have three years to file. Some special circumstances may extend the deadline.
Do not delay. Contact one of the personal injury attorneys at the Sloan Firm now. We serve personal injury victims in Longview, Houston, Santa Fe, and throughout Texas and New Mexico.
Personal Injury Lawyers Who Walk With You Through The Process
No matter what type of personal injury you have sustained or if you have been involved in a car, truck or a slip and fall accident, our attorneys will walk you through the process and explain the kind of evidence that will need to be presented, such as police reports, photos from the scene of the accident, eyewitness testimony and other evidence.
Try to document everything you can — a police report, a statement from a witness or the other party, photos of the scene, or whatever other evidence may be available that you can collect. Our lawyers will take what you have, and add whatever we find in our investigation so that we can build a solid case for compensation for you.
The Sloan Firm is skilled, experienced, and dedicated to the person behind the injury. We will fight to pursue justice for your case, and we are extremely proficient in what we do. See our testimonials for examples of people just like you, who we've taken care of and won cases for.