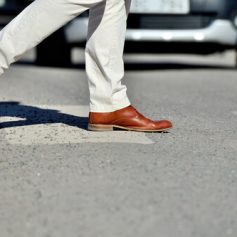 Thousands of pedestrians are involved in accidents with motor vehicles across Texas and New Mexico each year. The majority of pedestrian accidents are caused by reckless or negligent drivers. If you believe a driver's negligence caused your accident, get in touch with our pedestrian accident attorneys at The Sloan Firm today.
Experienced Pedestrian Accident Attorneys in Texas and New Mexico
The key question in cases involving collisions between a car and a pedestrian is 'who had the right of way?' Under Texas law, a car driver must yield the right of way when the pedestrian:
Uses a sidewalk
Uses a marked crosswalk
Crosses at an intersection
Is a child getting on or off a school bus
Approaches on a sidewalk
Texas law also requires drivers to operate using due care to avoid colliding with a pedestrian on a roadway, use proper precaution when seeing a child or 'obviously confused or incapacitated person' on a roadway, or give a warning by sound of horn when needed.
The Sloan Firm Pedestrian Accident Attorneys will Investigate Your Case
When our attorneys at The Sloan Firm investigate your pedestrian accident case, we will gather and analyze evidence that demonstrates why the accident happened and who was at fault for the injuries sustained. This evidence may include:
accident scene photos
eyewitness statements
cell phone records
toxicology test results
footage from red light or surveillance cameras
The most common causes of pedestrian accidents that the Sloan Firm's investigations typically reveal are driver-related. Drivers commonly cause accidents when they:
Speed or drive aggressively
Run red lights
Ignore stop signs
Fail to keep a proper lookout
Drive while fatigued
Drive distracted, such as texting or talking on a cell phone
There is a limited period of time to file a lawsuit after you are hit by a negligent car driver while walking. The statute of limitations for personal injury claims in Texas is two years from the date of the accident, while in New Mexico, it is three years. Due to these time limits, you should get in touch with The Sloan Firm as soon as you are ready to take action.
Related Blog Posts