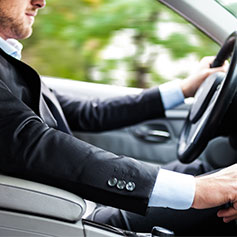 Most often, a person never considers the distance between where they are sitting and the steering wheel. However, many studies show that the distance of a person and the steering wheel can be the difference between severe harm and safety in the course of an accident. This is because airbags deploy forcefully and at a fast rate. In fact, these devices can expand at speeds faster than 200 miles per hour.
For this reason, maintaining a safe distance away from the steering wheel can save your life. The Insurance Institute for Highway Safety and the National Highway Traffic Administration report that 10 inches is an optimal distance between a driver and the steering wheel airbag.
How to Adjust Your Distance for Safety
Now that you understand the safest distance between you and the steering wheel, consider the following tips to adjust your seat accordingly:
Tilt the back of the seat back.
Aim the steering wheel down rather than at the face or chest.
Use the adjusting lever located beneath your seat to move your seat back.
If you are short, consider having pedal adjuster installed.
Have You Sustained Injuries in a Vehicle Collision? Contact Our Team
If you or someone you love has been harmed in a car accident, contact our Longview car accident attorneys at the Sloan Firm. At our firm, we are committed to pursuing positive results on behalf of our clients. That is why when you call, we will take the time to understand every intricacy associated with your case and determine which strategies can help you obtain positive results. No matter how big or small your accident may have been, we can do our best to seek maximum compensation for you and your family.
Don't settle for this point in your life. Let our Longview car accident lawyers help you. At the Sloan Firm, we make our clients our #1 priority!