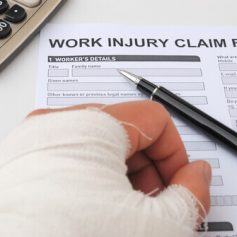 Texas has more workplace fatalities per year than any other state – and hundreds of thousands of workplace injuries annually. A workplace injury can reduce your ability to work or even prevent you from working entirely. If you have suffered an injury at work, the attorneys at The Sloan Firm want to help you.
Common Injuries Suffered on the Job 
Any type of injury can occur while on the job. Some of the more common work injuries include slip and fall, overexertion, falling from heights, falling objects, heavy machinery injuries, repetitive motion, vehicle crashes, or workplace violence. Incidents like these frequently result in the following general types of injuries:
Head injuries

Neck and back injuries

Bone and joint injuries

Loss of limbs

Muscle, tendon or ligament injuries

Burns

Stress injuries 
Types of Compensation Available Following a Workplace Injury 
After being injured on the job, there are two possible routes in which to pursue compensation for your injuries:
 If your employer carries workers' compensation insurance, we may be able to help. 

Since ompanies in Texas are not required to carry workers' compensation insurance, your company may be privately insured, in which case you can sue the company directly for your personal injury. You may also have a personal injury claim against a third party if someone other than your employer or a co-worker did something to cause your injury.
Under Workers' Compensation, the following types of claims are general brought:
Medical expenses

Disability

Rehabilitation

Death 
If you have a personal injury claim against your company (if it carries private insurance rather than workers' compensation) or a third party, you may be eligible to seek compensation for the following:
Medical expenses

Therapy

Lost income and earning capacity

Pain and suffering