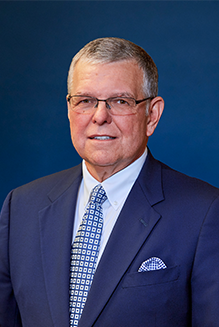 Texas Personal Injury Lawyer
Glenn A. Perry is a nationally recognized trial lawyer. Over the course of four decades, he has tried more than 250 cases in state and federal courts. His experience has taught him that sincerity and credibility are the key to courtroom success.
"The jury has to believe in what you're telling them," says Glenn, whose achievements earned him induction to the American College of Trial Lawyers, a distinction shared by only the top 1 percent of trial lawyers in North America.
"You've got to be honest, which I know sounds hokey, but you can't oversell your case," he adds. "You've got to marry your case to the facts and not promise too much. You've also got to be comfortable in your own skin and just be yourself."
Glenn grew up in a small town in southern Arkansas, where his grandfather, a justice of the peace, encouraged him to pursue a legal career.
He went to Southern State College (now Southern Arkansas University) on a combination academic/sports scholarship — he was a state champion pole vaulter — and didn't think much about a legal career at first.
"But then my pole vaulting career didn't turn out to be quite what I hoped — I realized I wasn't going to the Olympics — and so that caused me to finally wake up and look around for what I was going to do with my life," Glenn says. "Being a lawyer was always kind of in the back of my mind so I thought I'd give it a shot."
He received a Bachelor's degree in History and Political Science in 1972 and enrolled at the University of Texas School of Law in Austin, where he earned his J.D., with honors in 1975.
Glenn began his career as an attorney in the well-known Henderson, Texas, law firm of Wellborn & Houston, where he remained for eight years. While working there, he tried some 20 murder cases.
In 1983, Glenn decided to launch his own firm in Longview, which he maintained for the next 23 years until joining forces with Sloan Law Firm in 2006.
Over the years, Glenn has secured numerous significant outcomes on behalf of his clients. 
Glenn has always been generous in sharing his knowledge with his peers in the legal profession. He is a frequent speaker and writer on a wide range of issues pertaining to trial skills, including jury selection, opening statements and closing arguments.
While Glenn maintains a busy practice with the rest of our attorneys at Sloan Law Firm, he has been finding more time to devote to his horse ranch. Glenn and his wife, Dr. Jan DeLipsey, a psychologist and jury selection specialist, share a passion for horses and trail riding and have taken horse-riding trips throughout Texas, Colorado, Oklahoma, and New Mexico.